Opening hours: Monday - Friday: 8.30am - 7pm
Welcome to
London Digestive Health
London Digestive Health (LDH) is a gastroenterology partnership, made up of highly experienced gastroenterologists who specialise in the diagnosis and treatment of a wide range of digestive disorders and gastrointestinal problems. Our in-house specialist gastroenterology dietitian has particular expertise in the dietary management of gastrointestinal disorders and allows us to offer a holistic approach. In partnership with the London Digestive Centre, we provide consultation and endoscopic procedures relating to all aspects of digestive health.

Some common gut-related problems we treat include abdominal pain, Barrett's oesophagus, coeliac disease, diarrhoea, inflammatory bowel disease (IBD) which includes ulcerative colitis and Crohn's disease, irritable bowel syndrome (IBS), malabsorption, reflux disease, rectal bleeding and ulcers.
We also offer GI cancer screening and specialties in the management of upper and lower colon cancer. For most gastrointestinal disorders, we have the facilities and expertise to oversee your care from diagnosis to treatment. If you require surgery or further specialist care, we can arrange a referral through our network of world-class hospitals and consultants.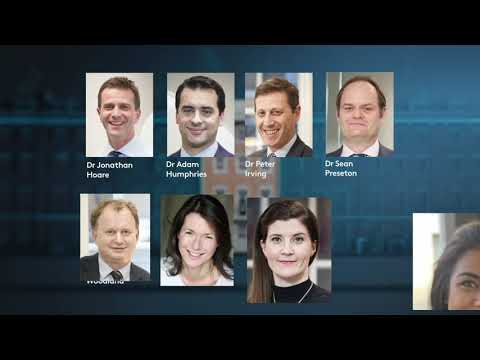 London Digestive Health (LDH) - Consultant Gastroenterologists
The London Digestive Health Team
Our consultant gastroenterologists and specialist gastroenterology dietician work as a team to deliver the best possible care to each and every patient. Working both in NHS teaching hospitals and at LDH, they provide the expertise and experience needed from diagnosis to treatment.
Learn more about our consultants above or read the positive feedback we've received from our patients.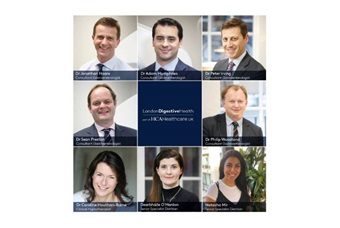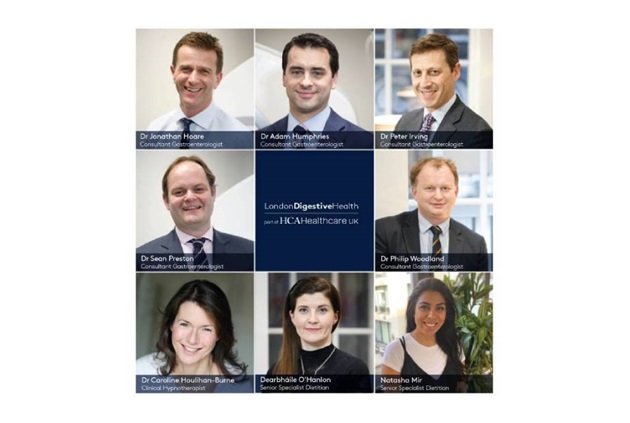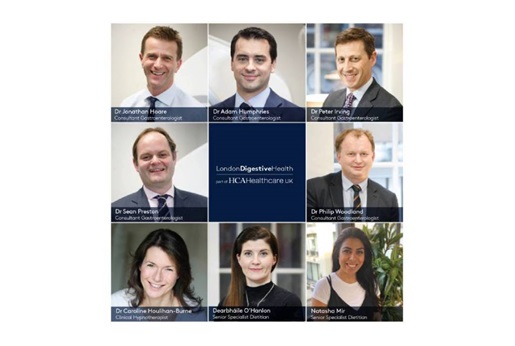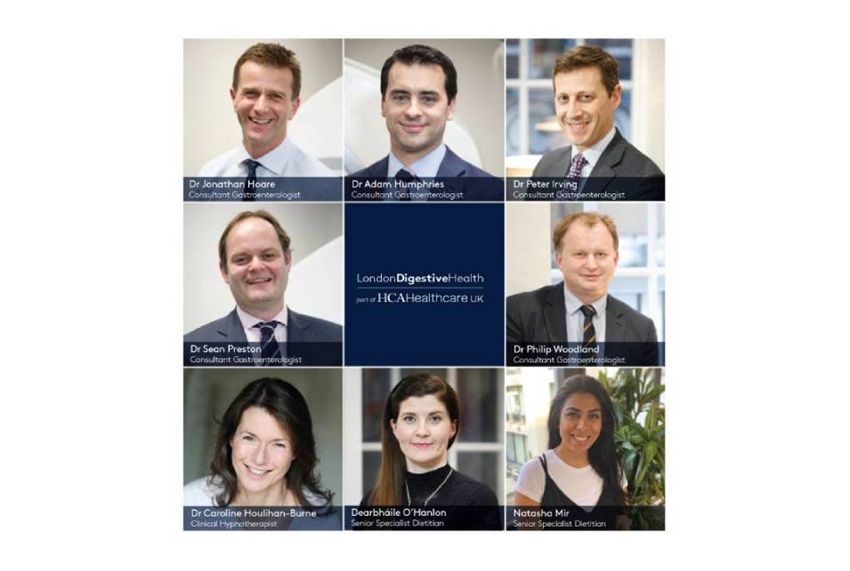 I should like to thank you for the prompt, efficient and sympathetic approach of you and your team. I am delighted and satisfied by the outcome.
Previous patient at the London Digestive Health
Our expertise at London Digestive Health
The care that was given to me went way beyond my expectations and I know for certain could not have been better.
Previous patient London Digestive Health
Digestive Health Diagnostics
Quality and safety at LDH
The partners of LDH are expert practitioners working both in the NHS and private sector, and adhere to the highest standards of governance. All exceed the national standards for endoscopy practice as specified by The Joint Accreditation Group for Endoscopy (JAG).
From the more than 3,500 endoscopic procedures performed from 2017-2018, all exceeded national standards. These include gastroscopy, colonoscopy, flexible sigmoidoscopy, endoscopic ultrasound, capsule endoscopy, balloon enteroscopy and other therapeutic procedures. Each consultant has individual areas of expertise and the team will often work together on specialised cases.

We invite you to enquire via the office for further information and personal statistics.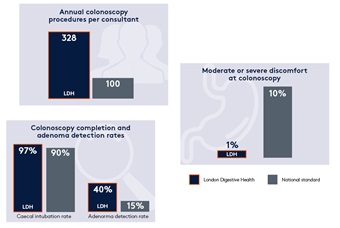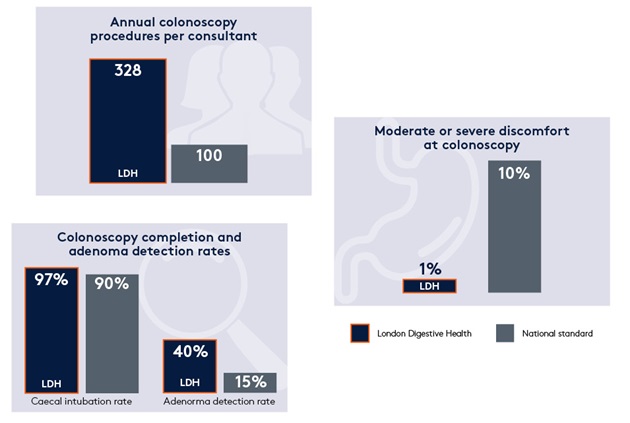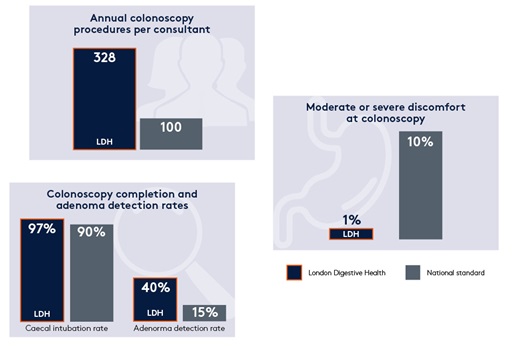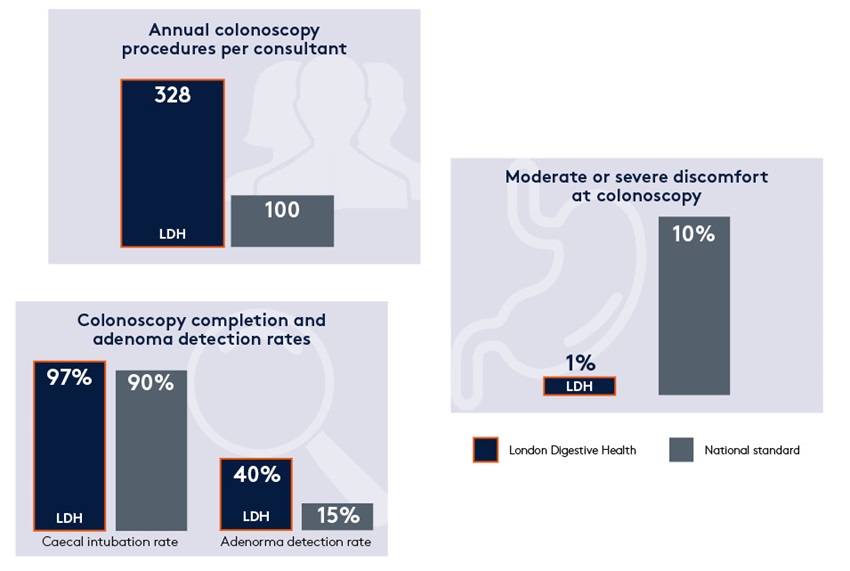 2nd Floor
41 Welbeck Street
London W1G 8DU
How to find London Digestive Health
We are based at the London Digestive Centre in Marylebone, W1. The nearest Underground stations are Bond Street, (7 min walk), Regent's Park (11 min walk), Baker Street (12 min walk) and Great Portland Street (13 min walk).
Contact

London Digestive Health

If you have any questions about London Digestive Health, you can get in touch with us by phone or email, we'll be happy to answer any questions and can also help you book an appointment.