Transcatheter aortic valve implantation (TAVI)
An alternative to conventional aortic valve replacement operations
A procedure to fit a valve into the heart to treat aortic stenosis
We are proud to perform the most TAVIs in the UK private sector.
In 2021 we carried out 449 TAVIs across our cardiac hospitals.
What is a
TAVI

procedure?

A transcatheter aortic valve implantation is a minimally invasive alternative to open surgery for treating aortic stenosis (a narrowing of the aortic valve). Your consultant may recommend TAVI if they feel that conventional

open heart surgery

isn't the right approach for you. The procedure involves inserting an artificial valve into your heart through a small (1cm) incision at the top of your leg. Successful treatment will improve your heart's ability to pump blood throughout your body.
Need to know
TAVI is usually performed under light sedation with local anaesthetic, meaning you'll be slightly drowsy and pain-free throughout the procedure. Your consultant will insert a thin, flexible tube (a delivery catheter) through a small cut in the skin, usually in your groin but sometimes between your ribs or under your collarbone.

The catheter is then passed towards the heart and through the opening of the narrowed aortic valve. A small balloon may be inflated to open your aortic valve and make room for the artificial valve. Most artificial valves are made using bovine (cow) tissue. This new valve is expanded to fit in place of the old, narrowed valve. The whole procedure takes one to two hours.

Like all procedures, there may be some risks and side effects involved. Your consultant will explain these to you and let you know how to prepare. If you're having general anaesthetic or sedation, your consultant will tell you how long you should avoid eating and drinking for.

The recovery time for TAVI is generally much faster than for traditional open heart surgery. You'll be cared for in hospital for as long as your recovery requires, but most patients go home within two days following the procedure. You can expect some discomfort and will be given pain relief medication.

It may take up to four weeks to fully recover, but your consultant will let you know when you can get back to your usual routine, including work.
Our TAVI consultants
We're proud to work with leading cardiac experts across a range of medical fields, whose skills are matched by their integrity and compassion.

A specialist cardiac team will be involved in your TAVI procedure, including your cardiologist and cardiac surgeon. Your consultant will discuss the procedure with you in detail and answer any concerns you may have.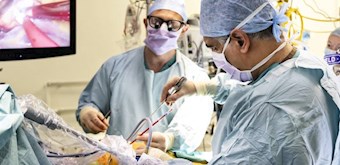 Our TAVI locations
We provide the TAVI procedure as part of our Cardiac Units at three of our flagship hospitals.
27 Tooley Street

London

SE1 2PR

35 Weymouth Street

London W1G 8BJ

North Building

Circus Road

London NW8 6PD
Request a
cardiac appointment
We're happy to help you make an appointment with one of our experienced cardiologists or cardiac surgeons.
Call us today
020 7079 4344
This content is intended for general information only and does not replace the need for personal advice from a qualified health professional.